Greetings from the President
In Nara machi, where many "machiya" (wooden house with a narrow but deep frontage) and the historic places still remain, the folk beliefs and the time-honored tradition are continued. You may see the "Migawarizaru" (red cloth monkey dolls on pieces of rope) hanging in front of the each house or stone Buddhist images standing here and there. Also, you may notice some flowers and cups of tea placed in front of the roadside shrines. These are the common scene you can find in Nara machi. You can feel the warmth of people living there.
Like this, folk beliefs are still "breathing" in Nara machi, where there used to be the ground of Gangoji temple. I believe that not only the historic scene but the warmth of people make it possible for us to feel the quaint aura in this area.
People in Nara machi never stop making an effort not to disappear the aura which their forefather had worked so hard to build. It is the dedication of the people who desire to observe the tradition that support the identity of this area. Would you come and see the quaint town scenery in Nara machi?
President
南 哲朗
Brochure ↓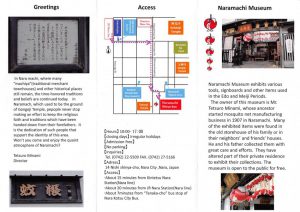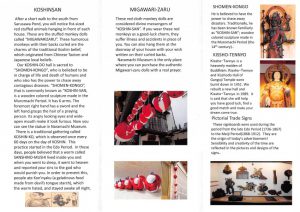 tripadvisor link ↓
https://www.tripadvisor.co.uk/Attraction_Review-g298198-d2103893-Reviews-Naramachi_Museum-Nara_Nara_Prefecture_Kinki.html